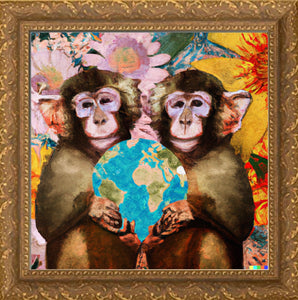 Sku No:— MODZ2-11222-WCM This item is Modern!
All items are final sale. No returns, exchanges, or refunds.
DESCRIPTION
World Class Monkeys Ornate Art 
Add a moment of inspiration to your home or office space with unique, vintage, modern, and wall hangings.
Add a bold and vibrant flair to your bare walls with our, "World Class Monkeys," wall art. Showcasing a floral backdrop against the portrait of two monkeys, our wall art enlivens your home with a touch of humor and vibrancy. The whimsical wall art is accentuated with realistic rendering and bold brush strokes. Framed within an ornate frame, our giclee printed canvas adds a vintage-inspired moment to a curated hallway, living area, or bedroom.
CONDITION
Good Condition, Original Unaltered Condition, As found, See Photos
DIMENSIONS
Overall Dimensions: 12" x 12" 
*Please note that this artwork  has been virtually staged and does not reflect life-size proportions. See dimensions before purchasing.*