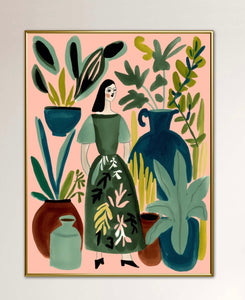 Sku No:—MODZ2-32623-SSA  This item is Modern!
All items are final sale. No returns, exchanges, or refunds.
DESCRIPTION
Secret Sanctuary,Giclee Print on Canvas Framed 
Discover the mesmerizing world of Sectet Sanctuary a vibrant boho watercolor masterpiece showcasing a woman surrounded by pottery and plants. Explore the intricate details, captivating colors, and unique textures of this art piece, perfect for adding a touch of bohemian charm to any space. Enhance your home or office with this enchanting artwork, celebrating the harmonious blend of nature, creativity, and the human spirit. Experience the soothing tranquility and warmth of this exquisite piece, bringing a sense of calm and inspiration to your life.
Add a moment of inspiration to your home or office space with unique, vintage, modern, art pieces and wall hangings.
CONDITION
Good Condition, Original Unaltered Condition, As found, See Photos
DIMENSIONS
Overall Dimensions: 12" x 16" 
*Please note that this artwork  has been virtually staged and does not reflect life-size proportions. See dimensions before purchasing.*