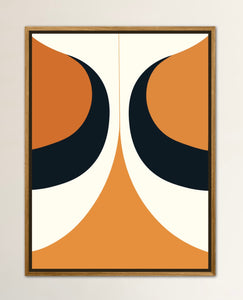 Sku No. —MODZ2-40923-OSD This item is Modern!
All items are final sale. No returns, exchanges, or refunds.
DESCRIPTION
Orange 70's Design Giclee Print on Canvas by Sour Candy ©️
Embrace the vibrant energy of the 70s with our eye-catching orange, white, and black graphic design, inspired by a renowned Danish designer's iconic style. This bold, retro artwork perfectly captures the spirit of the era, adding a dynamic and groovy touch to any space. Get ready to be transported back in time with this mesmerizing, modern masterpiece.
Introducing Sour Candy, the vibrant and whimsical artist who's transforming the art world one splash of color at a time! With a passion for graphic design, illustration, and typography, Sour Candy's creations are a nostalgic nod to the mid-century modern aesthetic, with a bold and playful twist.
CONDITION
Good Condition, Original Unaltered Condition, As found, See Photo 
DIMENSIONS
Overall Dimensions: 24" x 36" 
*Please note that this artwork  has been virtually staged and does not reflect life-size proportions. See dimensions before purchasing.*