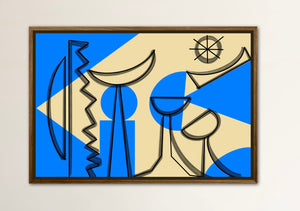 Style No.  — MODZ2-41523-LSA
This item is a Sunbeam Exclusive piece!
All items are final sale. No returns, exchanges, or refunds.
Les Sculptures in Blue, Giclee Print on Canvas Limited Edition of 100 

ABOUT THE ARTIST
C. Platero is a painter and design enthusiast based in Los Angeles, California. His work is often abstract, with influences from cubism, expressionism, and surrealism. C. Platero is an Angeleno through and through and his work speaks volumes to the culture and people who inhabit this beautiful city.
Canvas
Framed
Los Angeles based Artist
Original Art /Glicée Print limited edition
*Please note that this artwork has been virtually staged and does not reflect life-size proportions. See dimensions before purchasing.*