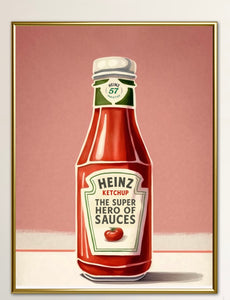 Sku No. — This item is Modern!
All items are final sale. No returns, exchanges, or refunds.
DESCRIPTION
Ketchup Super Hero of Sauces Giclee Print on Canvas by Apple Pie ©️
When Elvis Francois found himself stranded at Sea in the Caribbean Sea for 24 harrowing days, he relied on the unlikely combination of ketchup, garlic powder, and Maggi cubes to stay alive. Rescued after being spotted from a plane, Elvis' incredible story went viral and caught the attention of Heinz. Eager to support him and safeguard against future incidents, the company connected with Elvis and pledged to present him with a top-of-the-line boat, complete with cutting-edge navigational technology
Add a moment of inspiration to your home or office space with unique, vintage and modern art pieces and wall hangings.
CONDITION
Good Condition, Original Unaltered Condition, As found, See Photo 
DIMENSIONS
Overall Dimensions: 8" x 10" 
*Please note that this artwork  has been virtually staged and does not reflect life-size proportions. See dimensions before purchasing.*