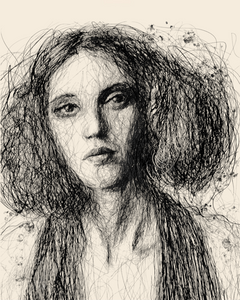 Style No. MODZ2-APAS123— This item is Modern!
All items are final sale. No returns, exchanges, or refunds.
DESCRIPTION
Giclee Print on Canvas Original Art by Apple Pie© —Framed 
Add a dose of visual interest and drama to your walls with our striking, "In Transition by Apple Pie," wall art. Sweeping and fluid lines create an abstract portrait of a woman to instantly strike a visual impact. Artistic and intriguing, the wall art is enriched in a classic combo of black and white to befit and complement a variety of different styles and decor. It features a giclee quality print to make a stunning and impactful statement in a curated lounge, bedroom, or hallway.
Artist Apple Pie: A Refreshing Take on Digital & Mixed Media Art
Apple Pie is a uniquely talented digital and mixed media artist who has made waves in the art world with their unconventional approach. Specializing in home decor, fun, and inspirational art, Apple Pie has established a name for themselves as an artist who prefers to swim against the tide.
Rejecting the glitter and gold of the traditional art world, Apple Pie has cultivated a relaxed and authentic experience for art enthusiasts, offering pieces that enhance daily living and spark joy. This commitment to simplicity and warmth has earned them a devoted following and a reputation as an artist who truly understands the heart of creativity.
Apple Pie's work spans a variety of media, from digital illustrations to mixed media pieces, each one crafted with an emphasis on whimsy and inspiration. By prioritizing the meaningful connection between art and its audience, Apple Pie has forged a niche in the art scene that resonates with those who value the power of art to uplift and transform the spaces we inhabit.
DIMENSIONS
Overall Dimensions: 
Art might appear larger than Actual piece please see dimensions. May available in larger sizes. Please inquire 
8" x 10"