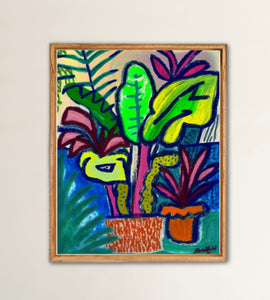 Sku No. MODZ2-3523-FWF— This item is Modern!
All items are final sale. No returns, exchanges, or refunds.
DESCRIPTION
Freeform Wild Flowers in Vase, Giclee Print on Canvas Framed by Mona Siegel 
Add a pop of color to your walls with this vibrant Giclee print of a mixed media painting. Featuring robust and bright colors, this print is created using a combination of pastels and acrylic paint, resulting in a unique and textured piece. This print comes already framed, making it a hassle-free addition to your home decor. Perfect for art enthusiasts and collectors alike, this print is sure to catch the eye and spark joy.
Add a moment of inspiration to your home or office space with unique, vintage and modern art pieces and wall hangings.
CONDITION
Good Condition, Original Unaltered Condition, As found, See Photo 
DIMENSIONS
Overall Dimensions: 8" x 10" 
*Please note that this artwork  has been virtually staged and does not reflect life-size proportions. See dimensions before purchasing.*