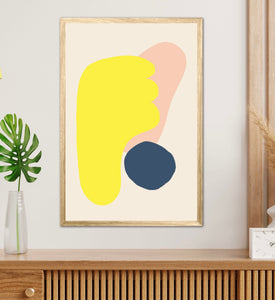 Style No.MODZ2-CTMA65 — This item is Modern!
All items are final sale. No returns, exchanges, or refunds.
DESCRIPTION

 Color Therapy Giclee Print on Canvas Framed by Sour Candy ( Original Art) 
Step up your wall décor with our lively and stunningly minimalistic, "Color Therapy," wall art. Bold and free-flowing abstract shapes beautifully layer and overlap to attain a dynamic and eye-catching composition. It features a moody and vibrant color palette to brighten up any corner. Featuring as a modern and elevated addition, our giclee printed artwork serves as the perfect complement to a sophisticated living space, bedroom, or a refined home office.
DIMENSIONS
Overall Dimensions: 
Art might appear larger than Actual piece please see dimensions. May available in larger sizes. Please inquire 
16 "5/8" wide
24" -5/8" height