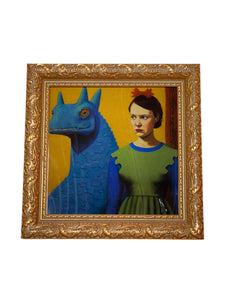 Sku No. MODZ2-41923-BIGF— This item is Modern!
All items are final sale. No returns, exchanges, or refunds.
DESCRIPTION
 Besties Giclee Print on Canvas Framed, by Apple Pie ©️
This artwork of a woman standing next to a blue dinosaur is an example of ultra nice detailed artwork. It features surrealism, which is the idea that reality can be distorted and manipulated to create something new and unexpected. The painting itself is made with oil on canvas, and the surrealist style is evident in its intricate detail and dreamlike qualities. The woman in the artwork  stands in stark contrast to the dinosaur, as if in a parallel universe where creatures like this exist. Her facial expression conveys an enigmatic emotion that draws the viewer in and encourages them to take a closer look. The blue dinosaur is not just any old creature - it has been crafted with incredible attention to detail, from its scales and fins to its claws and razor-sharp teeth. As light shines onto this mesmerizing scene, the colors become more vivid and lifelike, creating an immersive experience for anyone who looks upon it. This surrealist artwork  will surely leave a lasting impression on anyone who sees it.
Add a moment of inspiration to your home or office space with unique, vintage and modern art pieces and wall hangings.
CONDITION
Good Condition, Original Unaltered Condition, As found, See Photo 
DIMENSIONS
Overall Dimensions: 12" x 12" 
*Please note that this artwork  has been virtually staged and does not reflect life-size proportions. See dimensions before purchasing.*