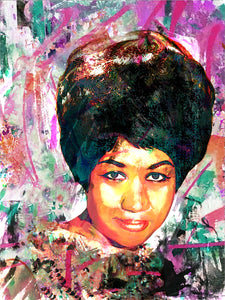 Style No.MODZ2-AFCA65— This item is Modern!
All items are final sale. No returns, exchanges, or refunds.
DESCRIPTION

Aretha Franklin Queen of Soul Giclee Print on Board Chrome Framed 
By Sour Candy © ( please see dimensions) 
Liven up your wall decor with our stylish and captivating, "Aretha Franklin Queen of Soul, wall art. Depicting a vibrant portrait of the legendary singer and songwriter, Aretha Franklin, our artwork enlivens your wall with a touch of history and nostalgia. The lively brush strokes and splashes of color reflect the expressive and powerful melodies of the Queen of Soul. A perfect piece to jazz up your walls or showcase your love for classic musicals, our giclee printed artwork remains a vibrant and eye-catching centerpiece for your living area, bedroom, or hallway.
DIMENSIONS
Overall Dimensions: 
Art might appear larger than Actual piece please see dimensions. May available in larger sizes. Please inquire 
24 "5/8" wide
36" -5/8" height