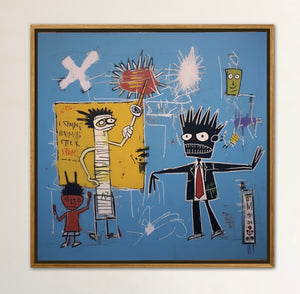 Sku No:—  This item is Contemporary
All items are final sale. No returns, exchanges, or refunds.
DESCRIPTION
"America" 
Babby is an innovative and passionate artist, deeply inspired by the raw energy and vibrant palette of street art. Steeped in the dynamic tradition of artistic rebels, Babby counts Jean-Michel Basquiat as a foremost influence, continually drawing from Basquiat's transformative blend of social commentary and abstract expressionism. Babby's creations are an explosion of color; they are a visual feast that refuses to shy away from the poignant and the personal. Infusing political elements into the art, Babby's work often engages with current societal dialogues, provoking thought and encouraging discourse. Through art, Babby strives to challenge conventions, inspire change, and celebrate the chaotic beauty of the world.

Add a moment of inspiration to your home or office space with unique, vintage, modern, and art pieces and wall hangings.
CONDITION
Good Condition, Original Unaltered Condition, As found, See Photos
DIMENSIONS
Overall Dimensions: 8" x 8" framed in faux wood frame 
*Please note that this artwork  has been virtually staged and does not reflect life-size proportions. See dimensions before purchasing.*