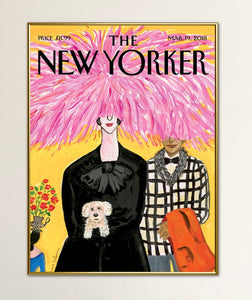 Sku No. —MODZ2-12223-WITP This item is Awesome!
All items are final sale. No returns, exchanges, or refunds.
DESCRIPTION
A Walk in the Park New Yorker, Giclee Print on Canvas Framed 
Are you looking for a one-of-a-kind way to make your space stand out? Our collection offers the perfect range of inspiring art pieces ranging from unique local artists and famous artists alike. Whether transporting yourself to tropical beaches with whimsical images of natural elements or adding life to your walls with impressive character development, you're sure to find something that will capture your imagination and inspire you. And if subtlety is what you're after, explore our depictions of daily life that bring just enough charm and character. Come one come all - our vast collection has something for everyone!
CONDITION
Good Condition, Original Unaltered Condition, As found, See Photos
DIMENSIONS
Overall Dimensions: 8" x 10" 
*Please note that this artwork  has been virtually staged and does not reflect life-size proportions. See dimensions before purchasing.*