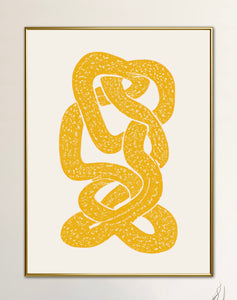 Sku No.MODZ2-41323-tTT — This item is Modern!
All items are final sale. No returns, exchanges, or refunds.
Twist to Things Giclee Print on Canvas Framed by Sour Candy ©️
Introducing Sour Candy, the vibrant and whimsical artist who's transforming the art world one splash of color at a time! With a passion for graphic design, illustration, and typography, Sour Candy's creations are a nostalgic nod to the mid-century modern aesthetic, with a bold and playful twist.
CONDITION
Good Condition, Original Unaltered Condition, As found, See Photo 
DIMENSIONS
Overall Dimensions: 12" x 15" 
*Please note that this artwork  has been virtually staged and does not reflect life-size proportions. See dimensions before purchasing.*