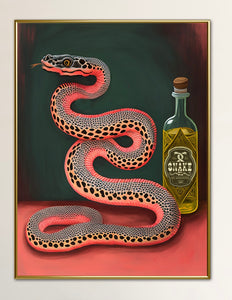 Sku No:—MODZ2-32823-SO  This item is Modern!
All items are final sale. No returns, exchanges, or refunds.
DESCRIPTION
Ironic infusions Giclee Print on Canvas Framed by Apple Pie ©️
"Ironic Infusions" is a vibrant and witty artwork that playfully explores the age-old concept of snake oil through the use of captivating colors and engaging visual storytelling. This piece features a charismatic snake, expertly entwined near a bottle of its own mythical elixir, inviting viewers to ponder the alluring world of false promises and charming deceptions. With a clever blend of humor and irony, the artist masterfully conveys the essence of snake oil's history while creating an eye-catching, conversation-provoking masterpiece.
Artist Apple Pie: A Refreshing Take on Digital & Mixed Media Art
Apple Pie is a uniquely talented digital and mixed media artist who has made waves in the art world with their unconventional approach. Specializing in home decor, fun, and inspirational art, Apple Pie has established a name for themselves as an artist who prefers to swim against the tide.
Rejecting the glitter and gold of the traditional art world, Apple Pie has cultivated a relaxed and authentic experience for art enthusiasts, offering pieces that enhance daily living and spark joy. This commitment to simplicity and warmth has earned them a devoted following and a reputation as an artist who truly understands the heart of creativity.
Apple Pie's work spans a variety of media, from digital illustrations to mixed media pieces, each one crafted with an emphasis on whimsy and inspiration. By prioritizing the meaningful connection between art and its audience, Apple Pie has forged a niche in the art scene that resonates with those who value the power of art to uplift and transform the spaces we inhabit.
Add a moment of inspiration to your home or office space with unique, vintage, modern, art pieces and wall hangings.
CONDITION
Good Condition, Original Unaltered Condition, As found, See Photos
DIMENSIONS
Overall Dimensions: 12" x 16" 
*Please note that this artwork  has been virtually staged and does not reflect life-size proportions. See dimensions before purchasing.*