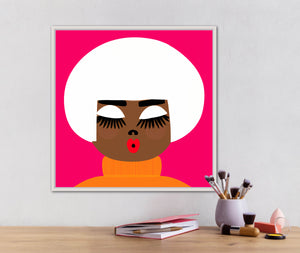 Sku No:— MODZ2-101122-LMENS
This item is Modern!
All items are final sale. No returns, exchanges, or refunds.
DESCRIPTION
Little Miss Eyelashes Original Art by Neko Suki ©
Add a touch of glam and charm to your walls with our, "Little Miss Eyelashes," wall art. Our minimalistic yet impactful illustration captures the eye with its exaggerated eyelashes and pouting red lips. Its bold and charming visuals are set against a bright pink and orange color combo to energize any corner of your home. Featuring a giclee quality print, our framed wall can fit anywhere to add the perfect punch to your gallery wall.
CONDITION
Good Condition, Original Unaltered Condition, As found, See Photos
DIMENSIONS
Overall Dimensions: 8" x 8" Print in White Plastic Frame
*Please note that this artwork  has been virtually staged and does not reflect life-size proportions. See dimensions before purchasing.*