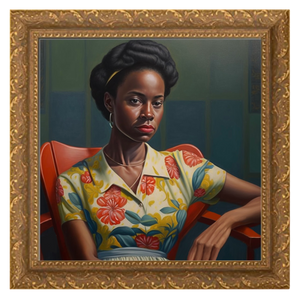 Sku No:—MODZ2-32423-AMOG  This item is Modern!
All items are final sale. No returns, exchanges, or refunds.
DESCRIPTION
A moment of Grace Portait by Rafaelio, Giclee print on Canvas. Plexi glass in a ornate frame. 
This vintage-style boudoir portrait captures the timeless beauty of a black woman sitting in a nostalgic setting. With an air of elegance and grace, the subject exudes classic glamour, inviting viewers to appreciate the rich history and enduring appeal of black beauty. The portrait's vintage style and boudoir setting make it a perfect addition to any collection or decor.

CONDITION
Good Condition, Original Unaltered Condition, As found, See Photos
DIMENSIONS
Overall Dimensions: 12"" x 12" framed 
*Please note that this artwork  has been virtually staged and does not reflect life-size proportions. See dimensions before purchasing.*