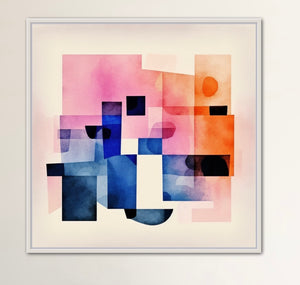 Sku No. MODZ2-4323-VD— This item is Modern!
All items are final sale. No returns, exchanges, or refunds.
DESCRIPTION
 Visionary Dreams, Giclee Print on Canvas by Lollipop 
Experience the vibrant energy of this stunning watercolor abstract painting Giclee print , bursting with a kaleidoscope of colors. Created by a skilled artist, this one-of-a-kind piece is a true masterpiece of modern art. With its dynamic composition and expert use of watercolor techniques, this painting captures the eye and captivates the imagination. Whether you're an art lover or simply seeking to add a touch of color and beauty to your space, this watercolor abstract Giclee print  is sure to delight and inspire.
CONDITION
Good Condition, Original Unaltered Condition, As found, See Photo 
DIMENSIONS
Overall Dimensions: 24" x 24" 
*Please note that this artwork  has been virtually staged and does not reflect life-size proportions. See dimensions before purchasing.*