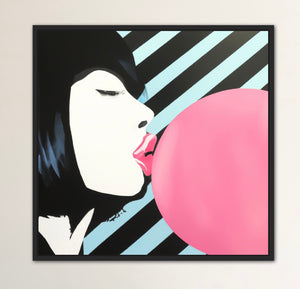 Sku No:—  This item is Modern!
All items are final sale. No returns, exchanges, or refunds.
DESCRIPTION
Perky by Neko Suki Print on Board Framed 
Add a moment of inspiration to your home or office space with unique, vintage, modern, and wall hangings.
Elevate your bare walls with the bold and glamorous presence of our, "Perky," wall art. Our stunning wall art stands out with a whimsical blend of reality and imagination. A chic pattern sets the backdrop for a girl blowing gum. With vibrant pops of blue and pink, the wall art brings a cheerful retro flair to your home. It features a giclee quality print to serve as a lively addition to a curated living area, bedroom, or entryway.
CONDITION
Good Condition, Original Unaltered Condition, As found, See Photos
DIMENSIONS
Overall Dimensions: 8" x 8" framed in plastic frame 
*Please note that this artwork  has been virtually staged and does not reflect life-size proportions. See dimensions before purchasing.*